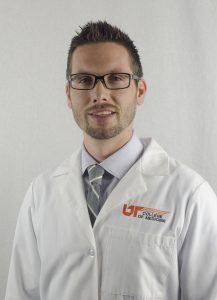 When Matthew Higgins, M.D., fellowship-trained orthopaedic surgeon at UT Erlanger Orthopaedics, is not treating patients or spending time with his wife and three children, he spends much of his free time competing in endurance mountain bike races. And while most of the patients he sees aren't looking to participate in similarly strenuous events, Dr. Higgins is able to help most of them get back to many of the activities they once enjoyed before pain got in the way.
"In many circumstances, patients first come into my office crippled or in debilitating pain," he says. "Initially, I try to treat their joint pain conservatively with medications, activity modification, injections, therapy, and braces. Many times, however, these treatments can fail to provide the relief that allows patients to participate in the activities they wish to do or even activities related to daily living. In these circumstances, joint replacement can provide significant improvements in the pain, range of motion, overall function, and quality of life."
Dr. Higgins is fellowship trained not only in primary joint replacements, but in complex revisions of previously done joint replacements, as well. He typically treats patients with joint pain related to osteoarthritis, rheumatoid arthritis, post-traumatic arthritis, or avascular necrosis. He also treats patients who've had problems with previous joint replacements. While most of these conditions are more common in elderly patients, some of his patients are very young. Minimally invasive hip replacement helps many of his patients walk immediately after surgery with minimal discomfort, short hospital stays, and quicker recovery times.
"Many times, the joint replacement procedures I offer will allow patients to get to a point where they can move and perform the activities they want to pain-free," says Dr. Higgins. "I enjoy seeing them returning to work or to activities they enjoy as quickly as possible."
Also a clinical instructor for the orthopedic residency program for the UT College of Medicine in Chattanooga, Dr. Higgins says he is proud to be part of the area's only teaching facility—a facility he says is "vital to the education of future physicians." Erlanger's fellowship-trained specialists cover all areas of orthopaedics—including extremely complex cases referred to them by other facilities across the entire region.
Not only are mutual respect and collaboration cornerstones of his team's approach to teaching and patient care, but Dr. Higgins says an emphasis on teamwork also applies to his relationship with patients, as well.
"I try to treat patients with respect and show them that I truly care about them as people," he says. "I try to keep things simple when discussing their condition and what our options are. I try to create a team-oriented atmosphere with the patients, showing them that we are in this situation together and that we will make treatment decisions together."
Schedule an appointment with Dr. Higgins today!