Receiving a diagnosis of cancer is often overwhelming. In addition to experiencing a myriad of emotions such as shock, anxiety, and fear, patients will deal with a host of logistical challenges. Common questions you may have as a patient include:
"What do I do now?"
"How am I going to get through this?"
"Who will help me?"
There are many questions, a lot of appointments to manage, and a new language to learn at a time when patients are likely overwhelmed and scared.
This is where patients can take a deep breath and lean on their breast cancer nurse navigator. At the first sign of an abnormal mammogram — through biopsy, surgery, and beyond — breast cancer navigators are the tireless supporters of our patients. Guiding them through each step of the process, they provide education on all available treatment options.
What is the first step after diagnosis of breast cancer?
After your diagnostic testing or biopsy confirms cancerous cells in the breast tissue or surrounding areas, the doctor will begin the discussion about treatment options. Different types of procedures from lumpectomy to mastectomy and other treatments including radiation, chemotherapy, or hormone therapy may be discussed.
Typically, there's no need to rush into a treatment. Depending on staging, patients have time to figure out which treatment works best for them. And most women actually undergo a combination of treatments which are specifically recommended for their unique situation, type of cancer, etc.
How can breast cancer navigators help?
Oncology navigators are knowledgeable about all aspects of cancer care and the cancer care system. They view the healthcare system through the perspective of a patient and collaborate on the patient's behalf to facilitate seamless quality care. They are aware of the treatments, experiences, and emotions patients can expect throughout their cancer journey and can help make connections with community resources that can help support patients and their families during treatment and recovery.
As a Breast Health Navigator, Katie Viola, RN, BSN, emphasizes the importance of providing patients with someone to join them on their journey even as doctors and treatments change. With many doctors along the journey, she is a consistent, accessible resource providing education, answers, and support.
"My true role as a nurse navigator is to be your advocate, a companion, and a point-of-contact," Katie says.
The impact of early detection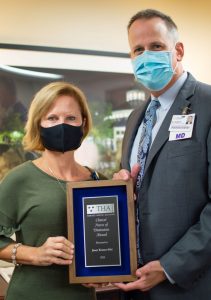 Janet Kramer-Mai, who was recently named Clinical Nurse of Distinction by The Tennessee Hospital Association, is an Oncology Certified Nurse and Certified Breast Navigator, and this month marks her 19th year as a breast cancer survivor. Not only is she armed with the medical knowledge of the stages and treatments of breast cancer, Janet is able to lend her personal experience to her patients as she helps them navigate their individual journeys.
When breast cancer is detected and treated early, the chances of survival are very high and a big part of Janet's mission is to spread awareness about the importance of early detection.  "I can't stress enough the importance of diligent breast health," says Janet. Her guidelines for maintaining breast health include:
Have an annual breast exam – a clinical exam by a physician, NP, PA, or someone specifically trained to perform a clinical breast exam.
Perform a monthly self-exam – many women identify issues by maintaining regular breast self-awareness.
Schedule an annual mammogram – especially for anyone at a higher risk for breast cancer.
"The goal of annual screening mammography is to find a breast cancer long before a woman could feel it or discover it on a breast self-exam. Each piece of the recommended breast health guidelines serves an important purpose, and if there are any concerns, they should be discussed with a physician."
You may have an increased chance of developing breast cancer as you age and if you:
Are female
Have a family history
Are overweight
Smoke
Drink alcohol in excess
If you have any of the above risk factors, or are at least age 40, it's time to have a mammogram. To schedule an appointment with an OB-GYN or breast cancer navigator, please call 423-778-PINK.