As she was nearing the age of 40, Jenny Davis decided to change her life for the better through weight loss surgery. She was tired of being "trapped" by her current weight.
"My life was just very boring and sedentary," said Jenny. "My life was ruled by my food, and I didn't want to do that anymore."
After doing a bit of research, Jenny decided Erlanger Metabolic and Bariatric Surgery Center was her best option for weight loss surgery. She registered with the team, talked with Dr. Sanborn via live webinar, and the rest is history. On March 13, 2018, Jenny underwent bariatric surgery with Dr. Daniel Cronk.
"Fast-forward to today, and I look in the mirror and I'm a totally different person, inside and out" said Jenny. "I've lost 70 pounds, and I'm still going."
Since the beginning of her weight loss journey, Jenny was determined to give it her all – she refused to do anything less than 100%.
"I told Dr. Cronk the day that I had my surgery that I will go all the way, I will not be a 70% statistic," she said. "I'm going to make this a new life for myself."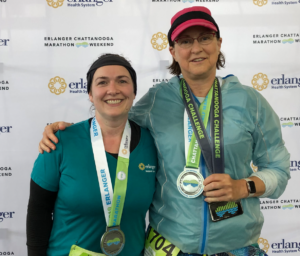 Nearly a year after her surgery, Jenny participated in the 2019 Erlanger Chattanooga Half Marathon after the support team at the bariatric center encouraged her to join their team. Though she didn't initially realize the impact it would have on her, she'll never forget the moments her family cheered her on as she ran.
"My family was there. They met us a couple times on the course, rooting us on," said Jenny. "That was such a good feeling, for my girls to be able to see their mom accomplishing something that she never thought she'd be able to do."
"I want to thank Jenny Davis for sharing her story, she has shown strength and determination throughout her journey. She takes an active lead in the management of her disease of obesity recognizing it is a lifelong chronic condition. I want to thank her for how she supports individuals new to this journey; sharing her experience." – Karen Sarnosky, MSN, FNP-BC, CBN