On Saturday, March 2, a group of medical professionals and some of their patients from the Erlanger Metabolic Center participated in the Erlanger Chattanooga Marathon 5K event, calling themselves the "Metabolic Milers." On this team were wife and husband Jenny and David Long.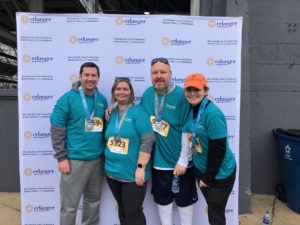 Jenny and David began their weight loss journey with the intent to live healthier lifestyles. David struggled with diabetes and high blood pressure, and Jenny feared that with age she might also be at risk for health issues. Together, they decided to have gastric bypass surgeries at Erlanger Metabolic Center.
So far, Jenny has lost 110 pounds and David has lost 175 pounds. But these losses are not just the result of surgery; they're also the result of education, diet, exercise, and support.
"We encouraged each other," said Jenny. "We made the decision together to do it together."
Not only are Jenny and David making better food choices at the grocery store by limiting their intake of carbohydrates and sugar or at a restaurant by sharing a meal, but they're also working to exercise regularly and reach their daily step goals. And they've been able to reap the rewards from their hard work!
"I have more self-esteem," said Jenny, with David agreeing. "Shopping! I get to shop at normal stores, and I'm okay to look at myself in the mirror now. "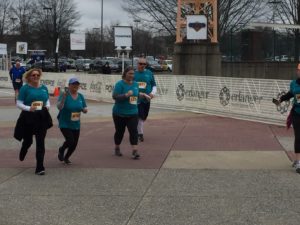 Through their experience with the Metabolic Center, they have literally and figuratively been able to reach milestones. Jenny and David stayed side-by-side throughout the race, encouraging each other to keep going.
Before his weight loss, David would become breathless just by standing up from the couch.
"It would have been impossible," said David when referring to what his experience running a 5K would have been like before his weight loss journey. "It would have been a big struggle."
The medical professionals from the Erlanger Metabolic Center have been there with them through it all, even cheering them on during the race.
"One of the most exciting aspects of my job is getting to be a part of watching a patient put their new found health into practice. I had such a wonderful time running with these two awesome patients. Their determination to finish was inspiring. There is no greater joy in life than to succeed in doing something that were unable to do before." —Rachel Newmyer, Nurse Navigator
Jenny and David are still running toward the finish line, trying to meet their weight loss goals. Jenny would like to lose another 60 pounds, and David has 35 pounds to lose before he meets his goal.
"Best decision I ever made," said David.