On Friday, April 13, officials will raise a "Donate Life" flag in the Erlanger Baroness Hospital courtyard to recognize and honor 50 Erlanger patients who gave the ultimate gift of life as organ donors in 2017. Thanks to the organ donations of these 50 individuals, 163 lives were saved last year.
At 11am, Erlanger will join thousands of hospitals and organizations across the nation by flying the flag in recognition of Donor Awareness Month and in honor of the uncountable lives touched by organ, eye and tissue donation. Representatives from the Erlanger Health System, Tennessee Donor Services, Donate Life, Erlanger's transplant program and other medical professionals will join Ronald Griffin, a kidney transplant recipient, and Pastor Mark Garrett, father of an organ donor, to mark the occasion.
Since the expansion of services at Erlanger East Hospital and the budding partnership with Tennessee Donor Services, Erlanger East Hospital will host a Flag Raising Ceremony on Wednesday, April 11 at 10 a.m. on the Patient Tower terrace facing Gunbarrel Road. Lisa Bean, whose son Cameron's organ donation saved 5 lives, will make a few remarks. In 2017 alone, Erlanger East Hospital had 10 tissue donors – a gift that can improve the lives of 50 or more individuals. Both events are open to the public.
Currently, Erlanger Health System is the second leading donor hospital system in Tennessee. More than 115,000 people in the United States are waiting for a life-saving organ transplant and more than 2,900 of those live in Tennessee. Every day 20 people die waiting for a transplant, and every 10 minutes a new name will be added to the list.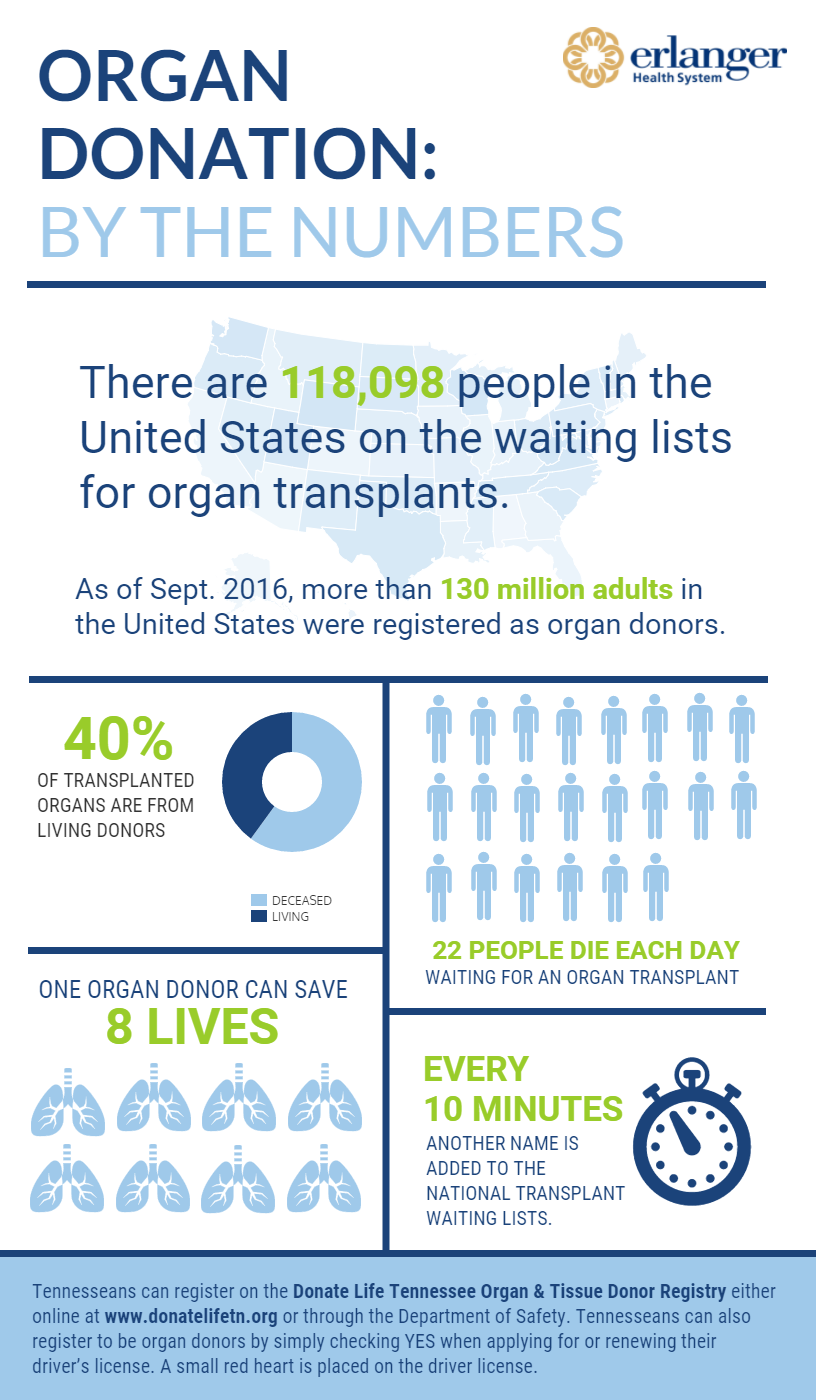 April is National Donate Life Month. Are you a donor? Join the registry and save lives.