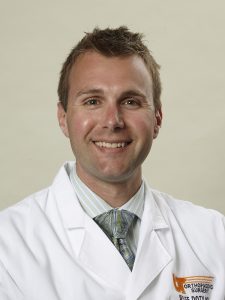 At Erlanger, we take pride in practicing what we teach. Jesse Doty, M.D., fellowship-trained foot and ankle board-certified orthopaedic surgeon at UT Erlanger Orthopaedics, takes that philosophy to heart. In addition to striving to provide advanced and compassionate care to his patients, he also helps to train the next generation of orthopaedic surgeons.
"Many members of our department participate in the national teaching circuit, where their educational presentations bring notoriety to Chattanooga and specifically to UT/Erlanger," says Dr. Doty. "We are a regional hospital that has gained national recognition. We have a number of young talented physicians who are on the absolute cutting-edge of orthopaedic treatment methods. When you pair that with the accumulated departmental experience provided by our cornerstone physician leaders, you have an extremely powerful combination. I'm really proud to be a part of it."
Dr. Doty has been interested in healthcare since he was a child. His grandfather was a general surgeon, and this was his first exposure to medicine. After seeing how his grandfather really made a difference in people's lives, Dr. Doty says he knew he wanted to help patients, too. The opportunity to make a major difference in quality of life outcomes led him to pursue orthopaedics.
"The Orthopaedic specialty is remarkable in that an optimal outcome may lead to a substantial improvement in a patient's quality of life," he says. "We have the privilege of experiencing this with our patients on a daily basis as orthopaedic surgeons."
Dr. Doty calls his colleagues "exceptionally talented," and says he feels proud to work with them toward common goals. Often, that collaboration is focused on complicated procedures like lower extremity salvage operations and chronic deformity corrections that would have otherwise ended with an amputation. He states that "An increasing number of patients needing these procedures have exhausted their treatment options elsewhere and have traveled substantial distances to be treated by our physicians here at Erlanger."
"We seek to treat patients from all walks of life, even those that might not have the same resources or support systems as others," he says. "We reach far into the surrounding underserved regional areas to seek out voids in other local healthcare delivery models and to provide world-class care that these patients deserve."
Dr. Doty sees many patients suffering from foot and ankle pain. They range from college athletes and young adult weekend warriors to older, more sedentary patients that have pain with limited activities such as walking independently. Pain may come in the form of chronic arthritis and chronic foot deformities, as well as acute injuries. Many of Dr. Doty's patients have been injured during athletic activities, and he says helping them get back in the game is one of the most rewarding aspects of his job.
"From a treatment satisfaction standpoint, when I see my athletes back on the court having a blowout game or on the field scoring a touchdown, it gives me a lot of fulfillment. It can be fun to think that maybe I played a small role in part of the action," he says.
Schedule an appointment with Dr. Doty, today!