Because COVID-19 is a newly identified illness, the Centers for Disease Control and Prevention (CDC) is still learning how it spreads, the severity of the illness it causes, and to what extent it may spread in the United States.
In communities where cases of the virus have been confirmed, it is important that we take appropriate measures to slow the spread of the virus and help alleviate the burden on healthcare providers. Since the virus is thought to spread mainly from person-to-person contact through respiratory droplets, which are produced when an infected person coughs or sneezes, the easiest way to protect yourself, your family, and your community is through a public health practice known as social distancing.
What is social distancing?
Keeping your distance from other people, washing your hands, avoiding touching your face, limiting your exposure to people, and reducing the number of shared surfaces you come in contact with (such as doors, shopping carts, bathrooms, etc.) will inevitably limit your exposure to any contagious diseases, including COVID-19.
Social distancing is different from self-quarantine, monitoring, or isolation. Self-quarantine separates and restricts the movement of people who were exposed to the virus to see if they become sick. Isolation separates people who are confirmed to have the virus from people who are not sick. Social distancing means remaining out of congregate settings, avoiding mass gatherings, and maintaining distance (approximately six feet) from others when possible in a proactive measure to stop or slow down the spread of a highly contagious disease.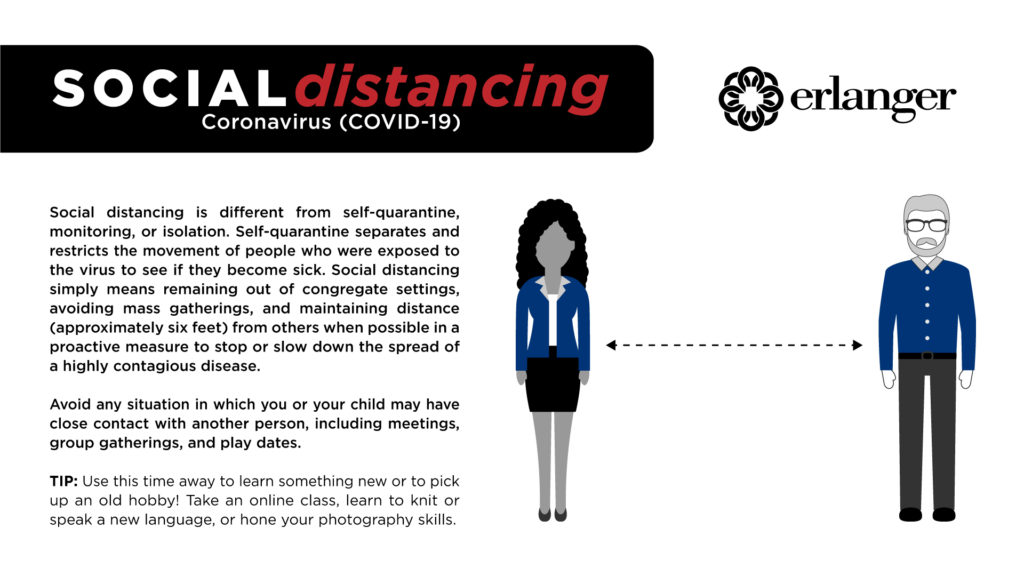 So, what does social distancing look like?‌ What is allowed, what is off limits, and just how distant do you have to be?
"Those who have not recently traveled out of the country or knowingly been exposed to an infected individual are advised to practice simple distancing techniques such as avoiding crowded places and large gatherings to slow the transmission rate and prevent widespread exposure to COVID-19," says Dr. Gregory Nieckula of Erlanger Primary Care – Signal Mountain. "You may be healthy and able to withstand the symptoms of the virus through to a full recovery, but this is an opportunity to consider the well-being of others — including strangers. A few tweaks to your daily life may save the life of a parent, grandparent, or chronically ill child."
If you are well, under 60, do not have a compromised immune system, and have not been exposed, it is still safe to gather in small groups if you are able to keep six feet of distance from person to person. So "social distancing" doesn't mean total social isolation. It just means you have to get creative about how to interact with coworkers, friends, family, and neighbors.
How does social distancing work?
In addition to those mentioned by Dr. Gregory Nieckula, common techniques for social distancing include:
Work from home if possible. If that's not feasible for you, take other precautions as much as possible.
Avoid handshakes. And while you're at it, avoid sharing pens and other everyday items at work or in public when possible.
Maintain more personal space than usual. It may feel a little awkward, but keeping at least 6 feet away from other people will go a long way in avoiding contracting the virus from an asymptomatic person.
Avoid necessary public spaces (such as grocery stores and laundromats) during peak hours.
Avoid unnecessary public spaces altogether. Save trips to museums, movie theaters, bars, restaurants, concerts, and other places where large crowds gather until after the spread of the virus has been contained.
Staying healthy while staying home
Staying home as much as possible is an easy way to implement social distancing practices — and there are plenty of ways to stay healthy, happy, and social while indoors!
"Constantly consuming upsetting news media, getting lost in distraction on your smart phone, or getting into arguments on social media — these things aren't helpful and will make these confusing times seem much worse than they need to. Try to look at ways you can make positive use of your time," Dr. Nieckula advises.
How can you do that?‌ Here are just a few ideas:
Call or video chat with a family member or friend you haven't seen in a while.
Have a family game night. Opt for hands-off games like Charades over high-touch board games.
Catch up on sleep. Sleep schedule disturbances (like those experienced when we recently set our clocks forward) can lower immune health, but a few good naps can help get you back on track!
Get active. Workouts of all types are available on YouTube for free — or just get in some good old push-ups and jumping jacks!
Relax. The chaos of the news is a lot to manage on a regular day, but the COVID-19 pandemic has taken that to another level. Stress and anxiety can compromise your immune system, so take this opportunity to learn (and practice!) relaxing meditation and breathing techniques.
Develop a new hobby — or pick up a forgotten one. Do you have a knitting project, novel, or painting you've been meaning to finish? Now is a good time to do all of those things you never quite feel like you have time for.
Maintain a healthy lifestyle. Eat well, stay active, get plenty of sleep and water, and choose positive coping mechanisms.
Learn something. Watch an educational documentary, learn the basics of a new language, or cook a new meal.
Get a head start on spring cleaning. Disinfecting your environment is necessary to protect you from getting sick, but you can take it one step further and declutter or deep clean.
When spending more time at home, it is especially important to practice diligent infection prevention. Make sure to clean all high-touch surfaces every day, wash your hands frequently, clean your mobile phone, self-monitor for symptoms of COVID-19, and avoid touching your face.
Frequently asked questions about social distancing

Q: Can I take my children to the park?
A: It is safe to venture out if you are able to go to a more secluded area and keep your distance from others. However, it is recommended that you avoid shared playground equipment.

Q: Can I go for a walk?
A: Yes, as long as you are not experiencing any symptoms and keep your distance from others. Get fresh air, clear your mind, and boost your immune system!

Q: Can I go to the gym?
A: While it is important to keep your immune system humming along with regular exercise, it is recommended that you exercise at home in places where you will not be within six feet of other people or sharing equipment.
What should I do if I develop symptoms?
If you are experiencing mild symptoms, please self-quarantine at home and maintain distance with others in the home who aren't experiencing symptoms.
If you have a fever greater than 100.4 degrees and respiratory symptoms, call your normal healthcare provider. If you do not have a healthcare provider, call the closest urgent care center.
Individuals who are elderly and/or frail are encouraged to call to reschedule any routine or non-urgent visits for at least four weeks. All are encouraged to stay at home and avoid crowds.
For more information on COVID-19 precautions, please visit our website.