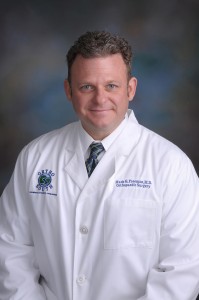 When Mark Freeman, M.D., Medical Director and board-certified orthopaedic surgeon at UT Erlanger Orthopaedics and Chief of the Department of Orthopaedic Surgery at Erlanger Health System, was deciding on his career path, he says he ultimately chose medicine because it gave him "a unique opportunity to combine engineering, research and development, and technology to improve patients' lives."
After earning a degree in engineering at Vanderbilt and completing his residency at Erlanger, Dr. Freeman completed a fellowship in adult reconstruction at OrthoCarolina in Charlotte, North Carolina, and earned a Doctorate of Medicine at the University of Virginia School of Medicine. He then had the opportunity to return to Erlanger, which he says has been his most rewarding professional achievement to date.
"It's been great to return to Chattanooga and Erlanger, where I trained, and join with mentors and colleagues in helping to build a great group of orthopaedic surgeons who strive daily to provide better patient care and train the next generation," he says.
As Medical Director for UT Erlanger Orthopaedics, Dr. Freeman leads orthopaedic providers across the Erlanger system in facilitating high-quality, cost-effective, integrated, and efficient orthopaedic care in both inpatient and outpatient settings. In addition to his surgical and administrative duties, Freeman also serves as an assistant professor and Chief of the Division of Reconstructive Surgery and Arthroplasty at the University of Tennessee College of Medicine Chattanooga Department of Orthopaedic Surgery. Not only does he teach adult reconstruction surgery to future surgeons, he is also dedicated to making Erlanger a nationally known, regionally preferred referral center of excellence with subspecialty coverage of all orthopaedic disciplines.
"I am committed to putting patients and quality first," says Dr. Freeman, "and setting high expectations, as well as being dedicated to lifelong learning and improvement, are key in maintaining that commitment."
Dr. Freeman says that not only does Erlanger pride itself on its reputation as a teaching institution, but it also sets itself apart by devoting its high-quality human and technology resources to treat the "harder cases no one else wants." Dr. Freeman specializes in caring for patients with operative and non-operative treatment of orthopaedic joint problems, including arthritis, infection, and deformity, and has built a strong reputation for excellence due to his ability to manage complex conditions, especially in the areas of primary and revision adult reconstructive surgery.
Despite his considerable personal achievements and recognition, however, Dr. Freeman says he is most proud of the successes of his team.
"It is extremely rewarding to know that we are able to improve quality of life significantly for 95% of the patients we treat who have debilitating conditions," he says.
Schedule an appointment with Dr. Freeman today!