When visiting Children's Hospital at Erlanger, it doesn't take long to recognize how invaluable Child Life Specialists are. They're in every area of the hospital, donning their pink and black uniforms, and spreading joy at every opportunity.
What is a Child Life Specialist?
The field of "child life" began more than 50 years ago at a time when it was uncommon for parents to be included in a child's hospital care. Parents often visited their sick children only during visiting hours or on weekends. Since then, Child Life advocates have worked hard to prove how important it is to empower children and their families during diagnosis, care, and recovery.
Meet the team
Lois Simpson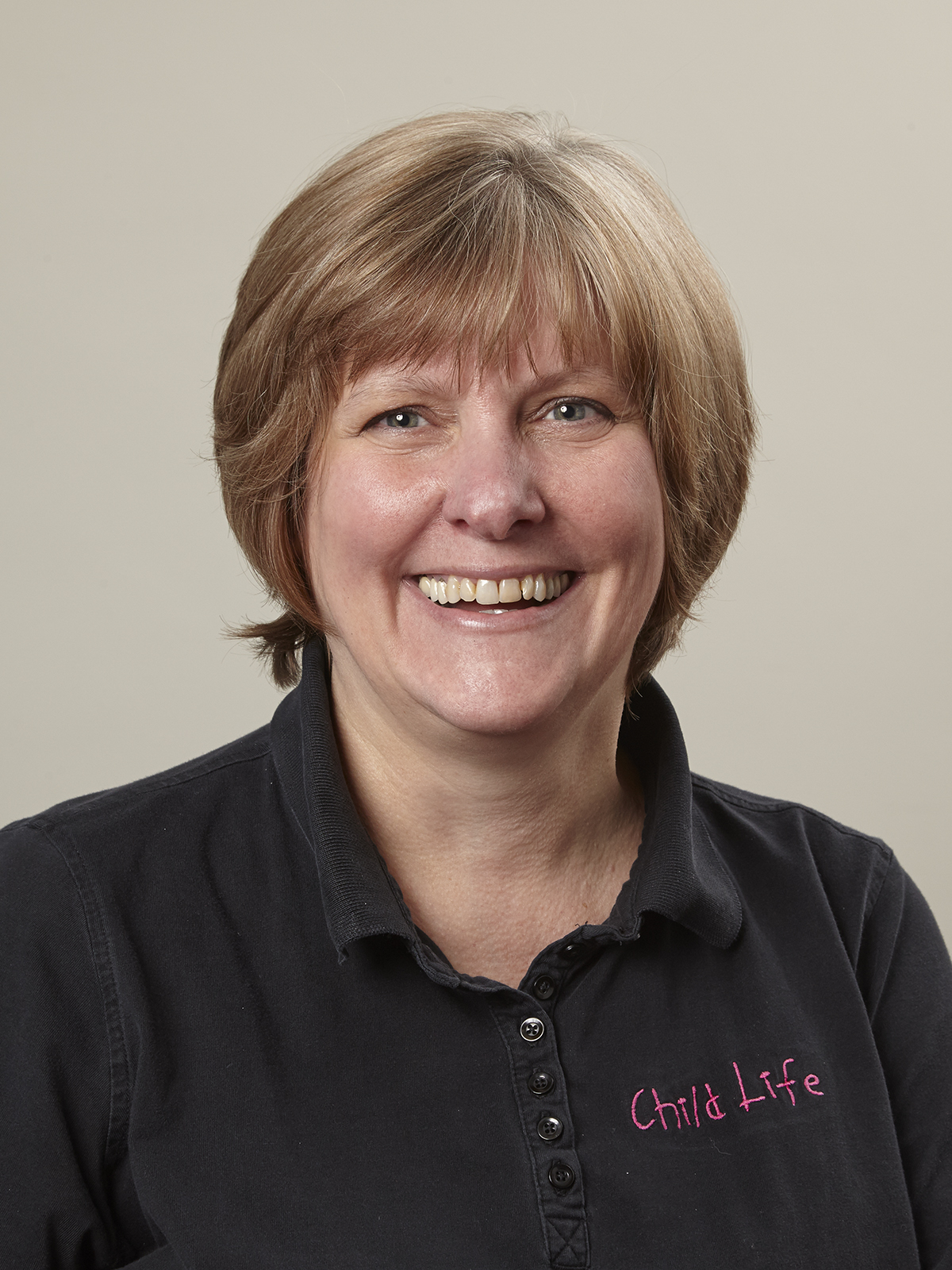 When Lois Simpson graduated from college, she turned to a recruiter for help in job placement. The recruiter suggested she go into Child Life. "Once I got started, I knew this was for me," Lois said. With her original title, "Child Life Assistant," she worked under a Director of Physical Therapy, and under the supervision of a social worker.
Today, applicants require a Child Life Certification for the job (and many colleges offer degrees specific to the field). Lois entered the field before those resources were available, but has since accomplished certification. "My, how things have changed," she laughed. Currently, Lois serves as the Senior Child Life Specialist, and is celebrating her 30th year in Child Life.
"My favorite part is the pet therapy program. There's nothing more exciting than seeing a child's face light up when one of his or her furry friends rounds the corner." Four days per week, hospital-approved dogs and their owners visit the inpatient floors and outpatient clinics. Lois makes the rounds with the pets and owners, ensuring the visits stay on track and positive.
Pet therapy is just the beginning of her work, which includes "anything that makes the hospital less scary," as Lois described. "I remember, years ago, a child that had severe burns. He was only 2 or 3 years old, and I realized that if I danced, it would make him laugh. So, every time I visited, I would dance silly. Even when children are at their sickest, they still want to play."
Madeline Howard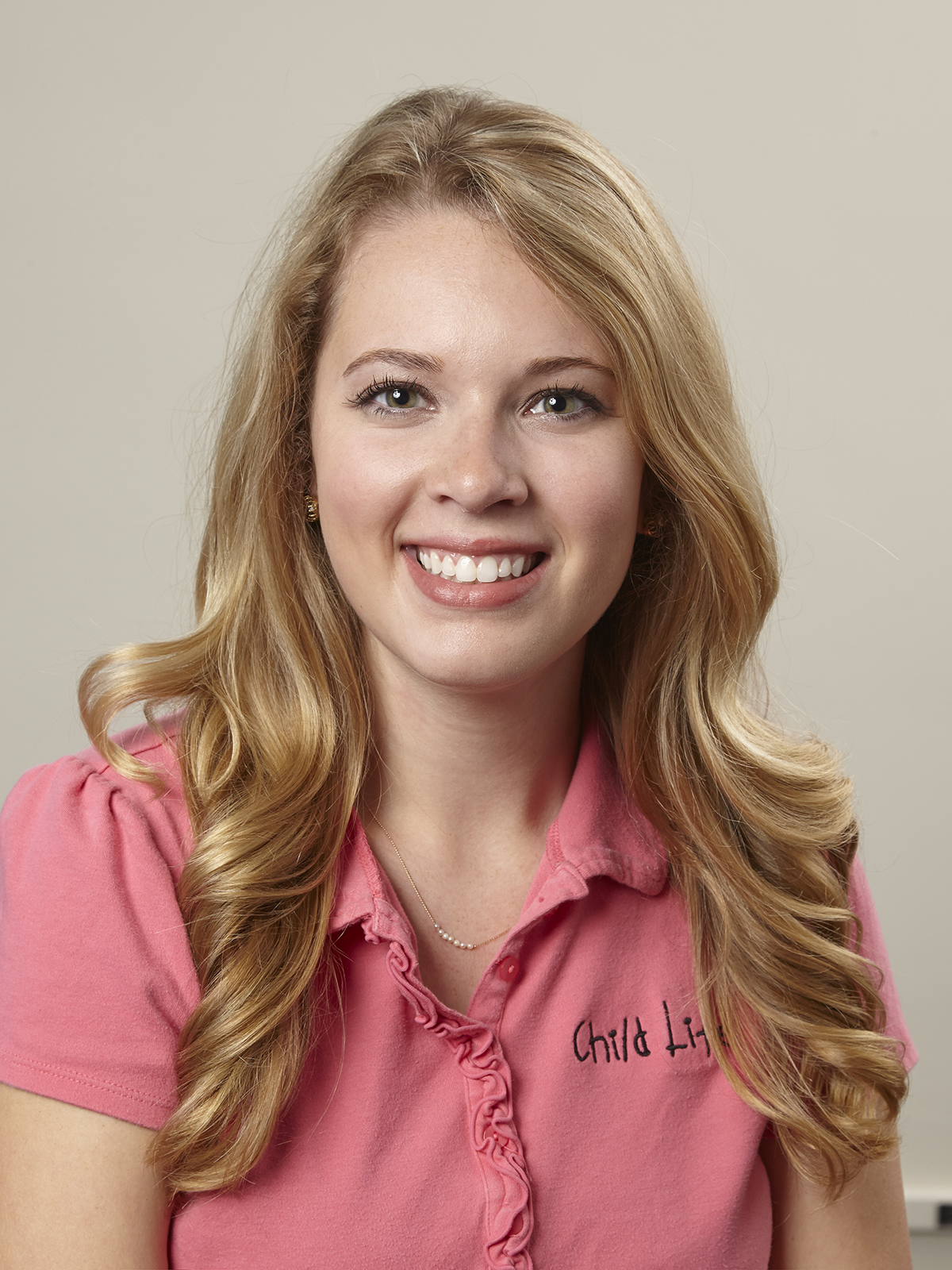 Madeline always knew that she wanted to work with kids, but she was unsure how to translate her passion into a career. Though she began as an Elementary Education major at Mississippi State University, her family's medical background played into her decision to choose Child Life. After an internship at Vanderbilt University, she joined the team at Children's Hospital at Erlanger.
Today, Madeline can be found in outpatient clinics and radiology, walking kids through procedures and explaining treatment in terms they can understand. She carries a bag of tricks to aid in her explanations. "I love seek-and-find books to help distract kids from their procedures. Also, bubbles are great; toys with music and lights, and of course our iPad with music and games." She also carries Frank the teaching doll to more easily explain how bodies work. "I love empowering children through preparation and play to help them cope with whatever happens to them in the hospital. Then hearing them say at the end, 'it wasn't so bad.'"
Ashley Zani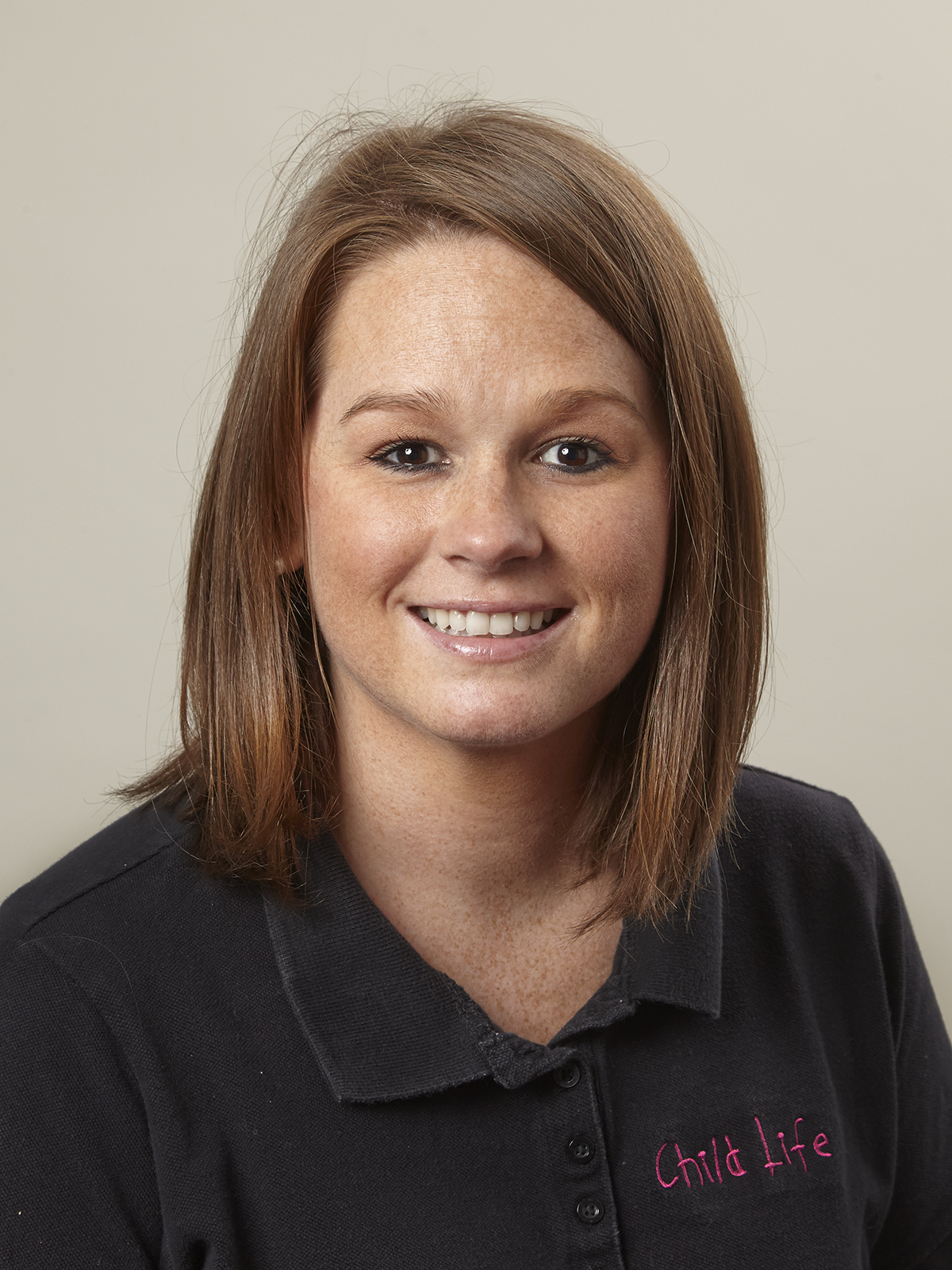 A Georgia native, Ashley began her Child Life adventure at Georgia Southern University. As an IT major, she took an elective Child Life class that changed her academic path as well as her life. This summer will mark nine years since Ashley first joined the team at Children's Hospital at Erlanger, and she couldn't be happier. "I love my job! I get to have my dream job," Ashley said. In fact, she was featured in the Chattanooga Times Free Press in 2011 describing her dream job.
What's Ashley's favorite part of her job? "The kids and their families. I work in Oncology and Hematology [blood disorders], so our patients are usually here for a while. I get to build relationships with them." And she goes above and beyond to make sure those relationships stay positive. "I try to learn all of their coping techniques and have things ready as soon as it's time for a procedure. If someone likes to watch a certain type of music video while having a port put in, or if someone wants to play video games during chemo treatment, I learn their favorites so that I can be prepared."
Though it's a blessing to get to know the kids and their families, it can be difficult at times. Bereavement and coping in the event of a loss are also part of Child Life. "We help connect families with a variety of resources to ease their grief. We offer handprints and footprints, as well as occasional photos, or finger charms. Also, if a child is old enough to understand what's happening, we help them express their desired form of care with My Wishes. It's never easy, but sometimes the childrens' positive attitudes and the families' optimistic outlooks can really be inspiring."
Jennifer Daugherty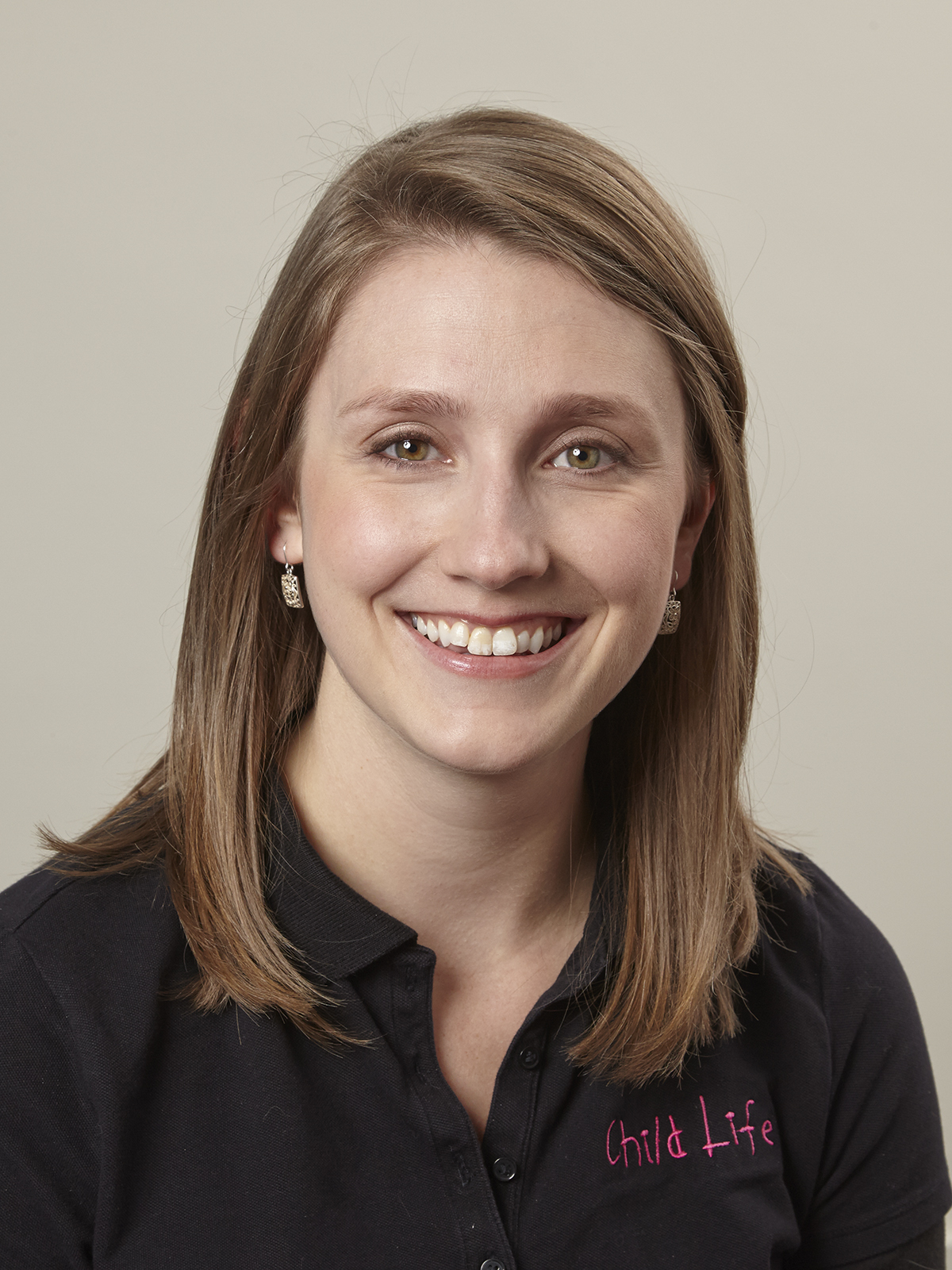 Jennifer started volunteering at Children's Hospital at Erlanger in 2010 (in Oncology/Hematology with Ashley Zani) when a position in Outpatient Surgery became available. Jennifer was brought on full time to fill the position. Like Ashley, Jennifer must establish relationships with her patients and their families — and she has a short timeframe to do so. "I have to try to develop instant trust," Jennifer said. "I like to give the kids choices. Letting them know they have a choice, even though the procedure is inevitable. Letting them choose how they want something done gives them a sense of control in the situation."
In addition to her regular area, Jennifer is now pioneering a Child Life program in the Children's Hospital Neonatal Intensive Care Unit (NICU). "The babies that I care for in our NICU are there 6 to 9 months on average — these long-term patients need extra support when family is away." She is hopeful this program will grow as the benefits of this added care are recognized.
Nicole Tetzlaff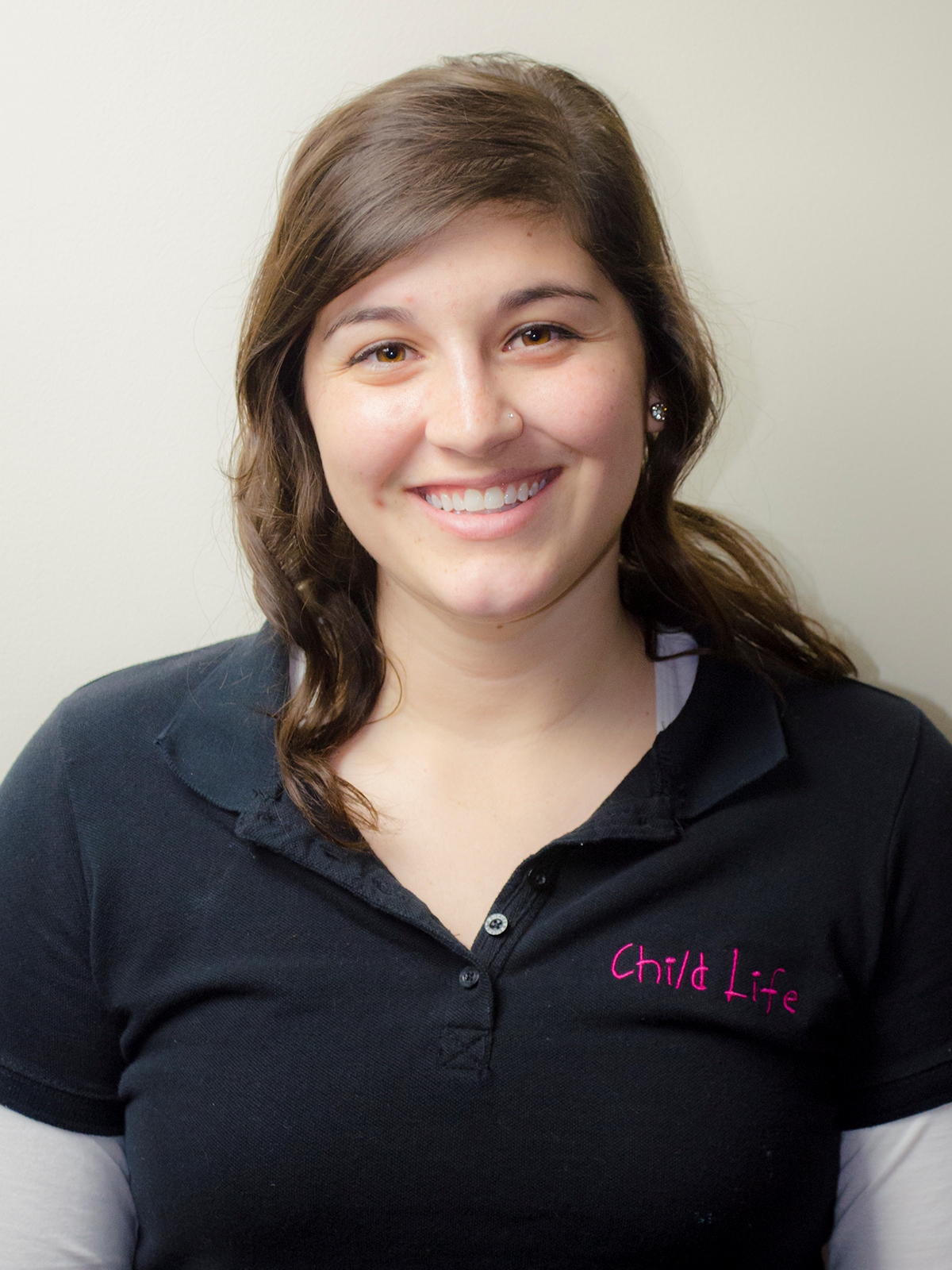 The newest member of the Child Life team, Nicole Tetzlaff can be found in the Emergency Department. After completing her practicum — a part of Child Life Certification that helps specialists gain experience — at Children's Hospital at Erlanger, she finished an internship and obtained her certification. Now, Nicole is wrapping up her first month, and she wouldn't want to be anywhere else.
Nicole has learned that the fast pace of the ER doesn't allow her much time with each patient. What are her go-to strategies for helping kids? "For little ones, picture books and bubbles work well. For teenagers, I like to use guided imagery for distraction. Asking them to close their eyes and imagine a happy place like the beach. Then listen, smell, hear, and taste from that scenario," Nicole said. "My favorite part is helping patients through procedures. It's nice to see the positive impact that we can have."
Ruth Downey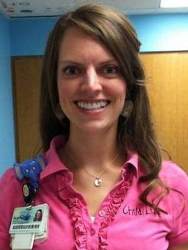 At four shifts per month, Ruth Downey makes the 240-mile round-trip journey to Children's Hospital and back from Anniston, Alabama. Ruth is one of two Child Life Specialists currently working part-time at Children's Hospital at Erlanger.
Through her previous work as a nanny and tutor, Ruth recognized her love for helping children. With a little research and a lot of determination, she pursued a Master's degree in education and a career change to Child Life Specialist. She joined the team in November 2009, and loved it so much she stayed even after moving. "My favorite part is the opportunity to make kids smile," Ruth said. "To quote Helen Keller, I 'tried to make the light in other's eyes my sight, the smile on other's face, my happiness.'"
In addition to her work with Children's Hospital, Ruth is also a teacher at the University of Tennessee at Chattanooga. Part of the Child Life Certification process is for future specialists to have completed a course taught by a Certified Child Life Specialist. Ruth teaches mostly online classes, helping Child Life hopefuls nationwide reach their goals.
Maggie Akridge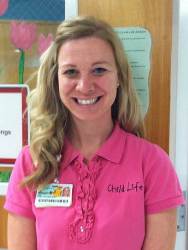 Maggie had initially considered a career in nursing, but her orientation at The University of Alabama helped her to realize she needed a new direction. Through volunteer work at Huntsville Hospital for Women and Children she was drawn to Child Life. Maggie not only completed her Master's Degree in Family Studies and Child Development at the University of Southern Mississippi, but also gained valuable experience through an internship at Cincinnati Children's Hospital. Then, Maggie accepted a position at Children's Hospital at Erlanger.
After three or four years of helping children in the Emergency Room, Maggie moved to the Intensive Care Unit and Inpatient Care (with Lois). "My favorite part is walking into a room and explaining to a child what's happening. When I leave, they are less scared." For Maggie, normalization is key to helping kids through tough times. "One of my patients had to spend her birthday in the hospital, and we were able to bake birthday cupcakes together. She was still getting sick, but wanted so much to be normal," Maggie said.
In addition to her work at Children's Hospital, Maggie joins Ruth in teaching classes at the University of Tennessee at Chattanooga — helping future Child Life experts develop their skills. Most recently, Maggie returned to work after some well-deserved time away with her healthy, happy twin baby girls.
Lauren Gaddis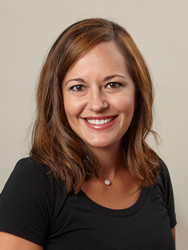 Lauren's adventure at Erlanger Health System began with a job during college at e-Kids Learning Center. A University of Tennessee at Chattnooga (UTC) grad, Lauren now holds a degree in Human Ecology: Child and Family Studies. Her experience volunteering with Maggie and Ashley in Child Life, as well as fundraising with Emily's Power for a Cure helped to solidify this career choice. After an internship at Vanderbilt University, Lauren joined the Child Life team at Children's Hospital at Erlanger.
Six years later, Lauren still loves her work in the Emergency Room. "I am kind of like a teacher at the hospital. I am here to help you understand. Our job is to help what may feel like a scary place seem not so scary." And how does she accomplish that? For the most common procedures — IV's, stitches, sedation, surgery, and trauma — Child Life specialists at Children's Hospital at Erlanger are equipped with interactive tools to help the patient learn. "We have T.C. Bear, I.V. Bear, and Stiches Doll that help us demonstrate how masks, monitors, and stitches — a.k.a. 'string band-aids' — work. We've also got 'Buzzy' who helps distract from pain through ice and vibration."
Lauren refers to the Emergency Room as the "doorway of the hospital," where you just never know what's going to happen. Many children who end up in other areas of the hospital start in the ER. So it's imperative for her to quickly gain a child's trust and understand how she can help. "I stay calm, get on their level, use eye contact, and speak slowly. It's also important to prep siblings. I try to think about how I would feel in their situation."
Get involved
Child Life relies heavily on donations from the community to help them make the most of a child's hospital experience. To learn how you can help, visit our Child Life Wish List on childrensaterlanger.org.