Victor Bryant is a proud Erlanger employee who became a patient of the Erlanger Kidney Transplant Center. In 2010, Victor visited an Erlanger Community Health Center, where his provider discovered a problem with his kidney function. He was referred to a nephrologist and learned that he would one day need dialysis.
Once Victor began dialysis treatment, he was able to persevere and keep a smile on his face, so much so that many of his co-workers were unaware he was receiving dialysis treatment. He continued to work through his treatment until he became too tired to continue. "My new job was to take care of myself," said Victor.
In December 2021, Victor received a call that a kidney was available; however, it was discovered that this kidney was a bad match. "I was sent home heartbroken," said Victor.
But only a month later, Victor received another call from the Erlanger Kidney Transplant Center. Another kidney was available. And on January 23, 2022, he received a new kidney, giving him "a new lease on life."
A few months after the procedure, Victor returned to work. "I am blessed to have a very supportive team and great supervisors who have truly embraced my journey and helped me celebrate this journey," Victor said. "I am Erlanger proud as the marathon continues."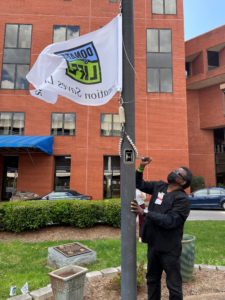 Each year, Erlanger Health System and Tennessee Donor Services officials raise the Donate Life flag at each hospital to recognize and honor the Erlanger patients who gave the ultimate gift of life as organ donors. At this year's event, Victor raised the flag, honoring the donor who saved his life while being surrounded by his co-workers, the kidney transplant team, and Dr. Alan Koffron, the physician who performed his life-saving surgery.
If you would like to become a registered organ donor to help save lives like Victor's, visit bethegifttoday.com.