I had a heart attack February 26th. It was a normal day. I felt fine. I'm a cyclist and I rode 40 miles that morning. I went to school. Morning classes went great. When 5th period came around, I was grading some projects and cutting up with the kids. I walked back to my desk to load in some grades. You know that feeling you get? When you feel a bit dizzy? It was that times 10 and I thought "I'm going to pass out" and I'd never passed out before. When I wake up, they tell me it had been about 6 minutes. People are standing above me. They'd had to do CPR on me, I'd had a heart attack.
Choosing Erlanger
My wife was advocating very quickly that we go to Erlanger. She knew that Erlanger was where I needed to be because it is the top hospital for cardiac issues around here. Thankfully, that's what's happened. I was transported to Erlanger from Dalton, and once I got here, everyone made me feel like I was going to be just fine. I was relaxed after that. They told me stents weren't going to do what I needed; I had too many blockages. They told me they needed to do a bypass. As it turns out, it was a triple bypass. That was Monday. I had the surgery Friday and everything went great.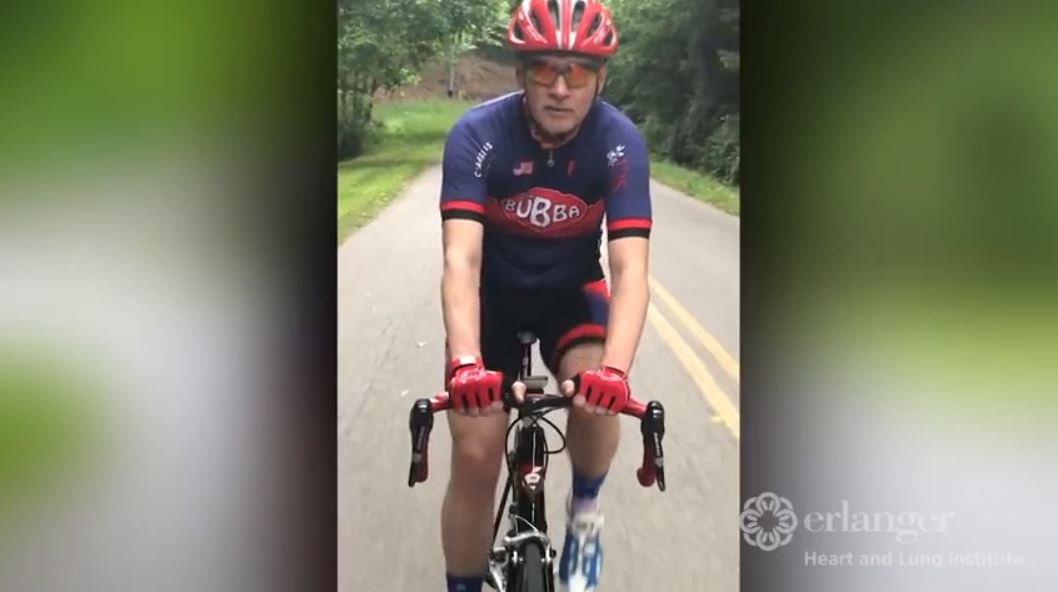 Back on the road
Dr. Shears was fantastic. He talked to me. I felt very at ease. He was an athlete, he runs marathons himself, so he made me feel very comfortable that I'd be able to return to the life I'd gotten used to being able to ride and enjoy myself. I feel like I'm almost back to where I was prior. Dr. Shears told me I'd be better than new after the surgery. I won't say that I'm there now, but I can see myself getting there. By the end of the summer, I will be there.
---
Georgia teacher Mickel Kobeck was in class entering grades when he became dizzy. He woke to learn his fellow teachers had revived him with CPR. It was a heart attack. Today Mickel is grateful for those teachers, and the Erlanger Heart and Lung Institute. Learn more at erlanger.org/heart.