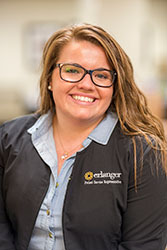 A Patient Service Representative (PSR) is the person that helps you check in and register for your appointment, but for the team at Erlanger Metabolic and Bariatric Surgery Center, there's a lot more to that job. The PSR is the first part of the team that you'll meet and sets the tone for your visit.
In December 2015, Cindy Buckner joined the Erlanger team as a PSR. Prior to joining the team, she was a Patient Care Technician with Focus, an addiction care center, at Cigna. With a bachelor's degree in addiction psychology, the job at Cigna was a great fit. This experience taught her to stay calm when all else is crazy around her, and paved the way for success as she works toward a degree as a Registered Nurse.
Cindy's favorite part of her job here at Erlanger? "I love helping everyone that walks into our office. There's always something new happening every day." Outside of the office, she likes to travel, go to concerts, practice photography, and bowl. Rumor has it, she is good at all of her hobbies, especially bowling. In 2006, her team won the TN State Bowling Championship for Hixson High School, which led to a scholarship and intercollegiate play. Her college team went to Nationals 3 of her 4 years and was fifth in the nation. "That was my favorite part of being a college athlete," admits Cindy.
Cindy Buckner has become a valued member of our team, and we can't wait for you to meet her. Be sure to ask her about her latest bowling game next time you visit.
Learn more about the team at Erlanger's Metabolic and Bariatric Surgery Center.
[photo credit: Sunflowers – Cindy Buckner]